今日はATVを利用した初のEVAです。4台のATVで出発しようとしたところ、1台のATVのエンジンがかからず、3人で出発しました。今日のコースは地質学者のマイケルが計画したATV1.2km、徒歩0.4kmのコースでした。11時にHabを出発し、4つのWaypointを通過して、2時40分ごろ戻ってきました。考えていたよりも探査範囲を広げることができず、移動にもかなり体力を使いました。ローバを用いて表面探査を計画するときのよいシミュレーションになりました。
(マイケルの立てる事前の探査計画自体はすごく妥当なものだと思いました。)
居住実験を始めて、今日は初めてシャワー(ネイビーシャワー)を利用しました。あと1回くらい利用できるといいのですが。
ATVを降りて、小川が凍り付いた渓谷を歩いて移動します。
途中でサンプル採取
小高い丘の向こうに渓谷が・・・
地層のスケッチをしています。
私は、チャールズと一足先に、渓谷を探索しています。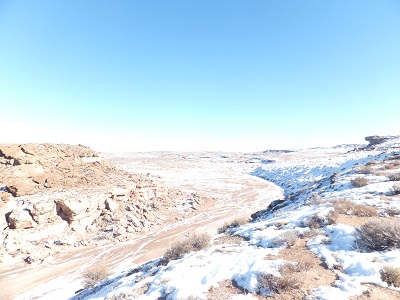 14時にWaypoint4に到着、疲れました。
ATVでHabに帰還
事前探査計画
EVA Report
Date: 12-26-13
Author: Michael Bouchard
Objective:
1) Investigate a frozen stream bed in this Martian analog environment, and collect 4-6 samples
2) Continue Geologic Mapping Project
3) Collect soil for the Green Hab
4) ATV mobility
Participants: //Gen 2
EVA Commander: Nick Orenstein (radio, suit #7, ATV # 1)
Coms and Nav: Michael Bouchard (radio, GPS, suit # 8, ATV # 2)
Participant: Hiroyuki Miyajima (radio, suit # 9, ATV # 3)
Participant: Charles Parrish (radio, suit # 10, ATV # 4)
Habitat Support CapCom (HSCC): Ian Etter (radio, no suit)
EVA Stats:
Date: 12/27/2013
Start Time: 11:00 am //Depart Hab
Turn Back Time: 2:30
Duration: 4 hours
Distance: 1.2 km one way on ATV, 0.4 km one way walking traverse, return on same path
Forecast: Sunny 35 high, light and variable wind, low of 17 in evening
Waypoints: //pick 3-4 points on a map that you plan to reach during your traverse and check in with HSCC when you reach these locations. Also Check in with HSCC every quarter.
Waypoint 1:
UTM: NAD 27 12S, 518230mE 4250710mN
Arrive Time: 11:05
Depart Time: 11:10
Location: South of the Hab
Waypoint 2:
UTM: NAD 27 12S, 518875E 4250720mN
Arrive Time: 11:30
Depart Time: 11:50
Location: First Dig site, sample and survey, West of the Hab
Waypoint 3:
UTM: NAD 27 12S, 518900mE 4250000mN
Arrive Time: 12:30
Depart Time: 12:35
Location: Park ATV's, North or Waypoint 2
Waypoint 4:
UTM: NAD 27 12S, 518900mE 4250300mN
Arrive Time: 2:00
Depart Time: 2:10
Location: West of the parked ATV's hike in, farthest extent west
事後報告
EVA #: GeoEVA_2/GHEVA_1
EVA Date: 12-27-13
EVA time slot: morning/afternoon (11-2:40)
Objectives and Plan overview, please comment on preEVA expectations:
1) Investigate a frozen stream bed in this Martian analog environment, and collect 4-6 samples
2) Continue Geologic Mapping Project
3) Collect soil for the Green Hab
4) Complete a mobility study on the ATV's
Narrative EVA report:
This EVA was our second Geology and first Green Hab mission (GeoEVA_2/GREVA_1). We went to a frozen river valley East of or first Geology/Astrobiology site. We took the ATV's and made two stops before parking along the road and walking into the site. We successfully accomplished all EVA objectives and returned with all equipment, personnel and ATV's intact with no incident.
We began the EVA at 11:00AM MST (Mars Standard Time). We left later in the day to allow the Green Hab crew to implement part of their project that requires time to dry. We headed out, made our first waypoint outside of the Hab and checked the ATV's. We discovered that Commander Orenstein's ATV, number 4, would not start. Commander Orenstein was the EVA commander and made the call to stay at the Hab, passing EVA command responsibilities to Officer Bouchard, Crew Geologist. Commander Orenstein entered the Hab and the remaining three EVA team members departed.
We kept the ATV's on the road and kept ourselves at a safe slow pace. The ATV's proved to be very effective forms of transportation and we reached the first stop in very good time. The first stop was a stream overflow platform identified from imagery. The team thought that this might be a good place to collect soil for the Green Hab. However after making our second waypoint check-in we realized that we had forgot all excavation equipment at the habitat. Since it was so early in the mission and we had made great time we radioed the Hab to let them know that we were returning to pick up the shovels and to prepare the airlock.
When we returned to the site we discovered it a poor site for soil collection. The ground was completely covered with snow, and even after removing this we were only able to get a few centimeters into the ground. We took a Geologic sample for analysis and returned to the ATV trail.
We followed the ATV trail North until we reached the base of the peak at X, Y. Here we dismounted, made our third way point and collected our equipment to begin the walking section of the traverse. We made our way East into a frozen river channel . We collected five more Geologic samples and retrieved five gallons of sediment for the Green House. We made our fourth and final way point at the farthest East point of our traverse before beginning to the return trek.
This section of the traverse was very successful and have us a lot of great data. The eroded river banks allowed us to see the layers below our feet. At its deepest the channel walls stood 6-7 meters high and averaged about 10-12 meters across. Laden with samples and soil we returned to the ATVs and drove back to the habitat. We reach the Hab at X:XX, where we unloaded and refueled the ATV's.
Despite having three instead of four members the EVA team met all mission objectives and successfully completed out first ATV traverse.
Equipment Report:
SCLSS: The three packs that work worked
Helmet, visibility: Number 10 still has issues with helmet staying mounted. We think the pipes are pushing on it. This leads to a very sore neck too.
Air flow: good, not very noticeable
Coms, usage, drop outs: pretty good. Signal got spotty as we got farther into the river valley and my grey radio turned itself off
Gear, boots, gators, caps, gloves: worked well
Water, usage, accessibility: did not drink much
GPS: worked well. I dropped it when the back popped off, but found it
Digging Equipment: shovels and rock hammer
Other: GoPro on the ATV worked great!
ATV: Nick's did not start so we left him at the hab, but the other three ran great
Procedure Report:
Waypoint Check in:
>missed the third one because it was hard to understand, some obstruction from geography, but otherwise worked well
Half Hour Check in:
>worked well
Airlock Procedures:
>works great
Checkin Times
time: 10:15 Departed from Airlock
time: 10:20
Location: UTM 27, 12S, 518230mE 4250740mN
Comment: Check in, all radios working, ready to depart
time: 11:59
Location: 518389mE 4251521mN
Comment: tried to check in at 11:59 but there was no radio contact. We stopped to make sketches. At 12:20 Habitat contacted us for a check in, radios worked then.
time: 2:02
Location: UTM 27, 12S, 518750mE 4250790mN
Comment: EVA team realizes that they have left a camera behind and radio to CapCom to let them know that they are retracing their steps to retrieve the camera.
time: 2:20
Location: UTM 27, 12S 518464 4251404
Comment: Commander calls to EVA team about tardiniess. EVA team confirms that they have retraced their steps and are now turning back to habitat.
Way Points
Waypoint 1:
UTM: NAD 27 12S, 518230mE 4250710mN
Arrive Time: 11:05
Depart Time: 11:10
Location: South of the Hab
Waypoint 2:
UTM: NAD 27 12S, 518875E 4250720mN
Arrive Time: 11:30
Depart Time: 11:50
Location: First Dig site, sample and survey, West of the Hab
Waypoint 3:
UTM: NAD 27 12S, 518900mE 4250000mN
Arrive Time: 12:30
Depart Time: 12:35
Location: Park ATV's, North or Waypoint 2
Waypoint 4:
UTM: NAD 27 12S, 518900mE 4250300mN
Arrive Time: 2:00
Depart Time: 2:10
Location: West of the parked ATV's hike in, farthest extent west
関連記事
<< MDRS居住実験8日目 | Home | MDRS居住実験6日目 危機的な水不足 >>